The One Child Policy Exacerbates Gender Imbalance in China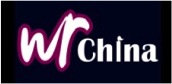 Women's Rights in China   
It's A Girl is a very successful documentary where we see how the cultures of China and India have shared many similarities in discrimination against girls. This kind of backwardness and ignorance have threatened the lives of many baby girls. In contrast with India, it was China's One-Child Policy that exacerbates the persecution of women and offsets the already serious gender imbalance in the country. Experts estimate that the current gender ratio at birth in China is 119:100, and particularly rural areas as high as 125-135:100. In the next 20 years, more than 40 million men will not be able to marry. This problem is not just a social disaster, but is also a grave threat to world peace.
In the film, the story of Miss Li does not only reflect the harm to women caused by Chinese tradition that look up to men and down on women, but also discloses rural women's miserable experience of "illegal birth.
In September 2010, WRIC volunteers investigated the reasons behind the sharply decreasing number of girls in rural areas. The most commonly practiced methods of limiting the birth of girls includes killing newborn girls, abandoning baby girls, and prenatal gender selection leading to aborting female fetuses.
1) Killing and Abandonment of Girls
Since the implementation of the One-Child Policy, families that wanted to have boys without going over the official quota often killed or abandoned baby girls. Villagers explained that a bucket of water would be placed next to the mother giving birth. If the baby were a girl, she would be immediately drowned in water and disposed. Other families abandoned or sold their girls. Buddhist convents in Anqing City, Anhui Province had rescued over a thousand abandoned girls.
In Changle City, Fujian, over thirty thousand girls had been sold in three decades to Putian, 100 kilometers away. Most of them became child brides. Babies who were killed or abandoned were almost all girls.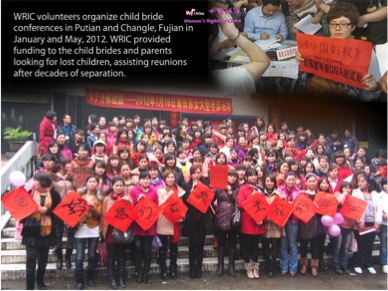 These women who were sold in infancy as child brides in Putian, Fujian, participated in the conference organized by WRIC in search of their birth parents. The 1980's were the height of the child bride trade. (photo by WRIC)
The story of the "Orphans of the Shaos" that was uncovered in 2011 and achieved international media attention happened in The Shaoyang Municipal Children's Welfare Institute (an orphanage) in HuNan providence, about illegally-born children of peasant families, because of no "fertility permit." The local government officials sent these illegally born children, mostly girls, to an orphanage, for secured fine, where adoptive families were to be "found" by the orphanage. However, our research has shown that some of these children have been sold to various countries, often at very high prices.
Because of the strict One Child Policy, the market for stolen or kidnapped children has grown tremendously. Human traffickers had latched on to this lucrative trade. Adoptions by western nationals usually cost between $30,000 to $50,000, further fueling demand.
Since 2005, the abandonment of baby girls has begun to decrease, but still remains a problem. But boys still vastly outnumber girls. In two villages in Susong County, Anhui, boys accounted for about 65% of births in both 2010 and 2011. An elementary school teacher disclosed to us that there were only 16 girls among 57 students of his in total.
2) Prenatal Gender Selection by Ultrasound
 Although China's government has banned gender selection through the use of ultrasound, in reality, private clinics such as mobile vans equipped with ultrasound machinery can determine the gender of the baby in the womb for 100 to 200 Yuan ($30). Government clinics often disregard the ban to help out friends and family or to earn extra income. Some families even buy their own ultrasound machines to make sure of having a boy. To stay within the quota and avoid paying the fines, families choose to abort girls immediately after ultrasound exam.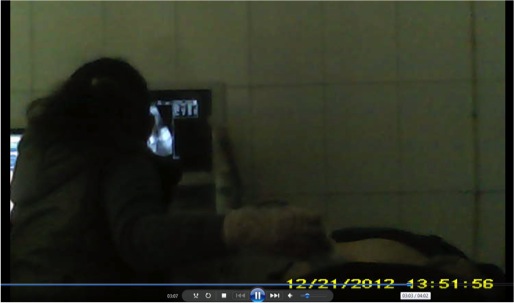 This illegal ultrasound clinic charges 200yuan if the result were a boy, 100 for a girl. (photo by WRIC)
China's government has realized the severity of the gender imbalance problem. In recent years it has increased propaganda efforts and implemented some incentive to encourage the birth of girls in some localities. However, these measures have had very limited effect, especially in rural areas. The main culprit is the forced Family Planning/One Child Policy, which is still held as a fundamental national objective. Coupled with easy and prevalent access to ultrasound and astronomical fines, this policy has led to disastrous gender imbalance that is still worsening.
Particularly in rural areas where the persecution of the one-child policy is most severe, female infanticide is still common. China and India are traditional male-dominated societies. Violence and discrimination against female aspects are very similar, but China's official one-child policy and its 30-year history of implementing it has unreasonably deprived women of their basic rights —- their reproductive freedom.
Guest Blog By Jing Zhang, Women's Rights in China
Jing leads Women's Rights in China. To learn more about their programs to support women and girls in China, go to wrchina.org or http://wrchina2007.blogspot.com.
To make a donation to WRIC:
Send a Check to:
Women's Rights in China
136-31 41st Ave, 2A
Flushing, NY 11355
USA
Make an online donation to PayPal account: wrchina2007@gmail.com
Contact WRIC: wrchina2007@gmail.com, wrichina@yahoo.com
 You can also explore additional ways to get involved in the fight against female gendercide through www.causes.com/itsagirl.
0
0
itsagirl
https://itsagirlmovie.com/wp-content/uploads/2017/01/logo-sm-89.png
itsagirl
2013-07-18 03:15:29
2017-02-07 10:56:34
The One Child Policy Exacerbates Gender Imbalance in China