Amnesty International's Premiere of It's a Girl in Hong Kong with Presentation from Women's Rights Without Frontiers' President Reggie Littlejohn


Littlejohn, an internationally-recognized expert and opponent of China's One-Child Policy, presented after the Hong Kong premiere of It's a Girl.
Littlejohn is featured in the film, which vividly details rampant coercion under China's population policy. Screenings of the documentary took place at the Hong Kong Arts Centre on November 18th and 19th.
Littlejohn's visit demonstrates a growing international opposition to forced abortion as violence against women and is a significant moment for Women's Rights Without Frontiers.
While Littlejohn has addressed the issue before the United States Congress, European Parliament, British Parliament, United Nations and Vatican, this visit was her first time speaking against forced abortion and gendercide from Chinese soil.  Littlejohn's remarks were broadcast into mainland China by Voice of America.
In connection with the film screening, she met with top human rights leaders, lawyers and legislators to discuss the state of China's population policy.
"I am thrilled to come to Hong Kong at the invitation of Amnesty International, and to speak at the Hong Kong premiere of It's a Girl.  The timing of my visit occurred just after China's announcement that it was making a modification of the One Child Policy.  I was able to discuss with the human rights community in Hong Kong that this is not a major step forward, as touted by the media.  Rather, it is a minor modification that will not end forced abortion or gendercide in China.  We need to continue the battle to end these atrocities.  I am grateful for the warm reception I received from the Hong Kong human rights community and hope to develop friendships and collaborations with the outstanding activists I met, for years to come."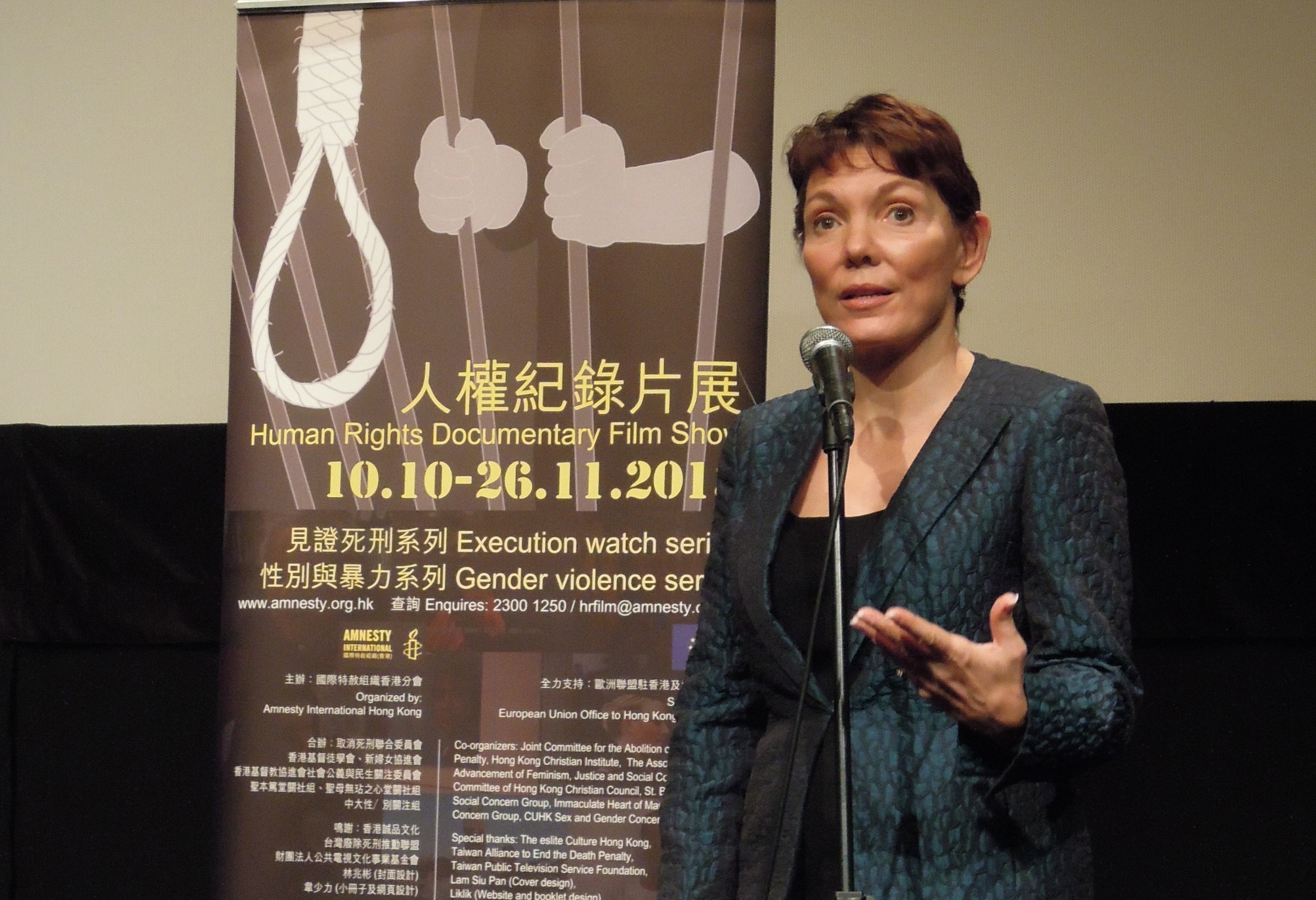 Reggie Littlejohn speaks in Hong Kong after the Amnesty International
Premiere of It's a Girl on 18 Nov. 2013      Photo credit: Amnesty International
Sign the Petition Against Forced Abortion in China
https://www.causes.com/chinapetition
Watch Hong Kong: Women's Rights Organization Says Two-Child Policy Does Not Relax One Child Policy (Video)
http://www.voachinese.com/media/video/woman-rights-20131119/1793194.htm

www.womensrightswithoutfrontiers.org
---
The views expressed by guest contributors to the "It's a Girl" blog represent the opinion of the individual author who contributes the content and should not be interpreted as being endorsed or approved by Shadowline Films. We feature these contributions to foster dialogue and exchange on gendercide and invite our readership to join the discussion
0
0
itsagirl
https://itsagirlmovie.com/wp-content/uploads/2017/01/logo-sm-89.png
itsagirl
2013-11-25 03:10:49
2017-02-09 13:34:37
"It's a Girl" Premieres in Hong Kong