The Invisible Girl Project: Saving Lives in India

In a recent trip to South India, I visited one of Invisible Girl Project's partners that rescues and cares for unwanted baby girls.  Rather than letting them be killed or trafficked, this home will take girls in, care for them, educate them, and teach them their inherent value…as human beings.  The home has been rescuing and caring for girls for years, raising them, and then providing college educations or trades for them, preparing them for a future. Invisible Girl Project has been supporting them for the past three years.
I always love to visit this place, this home for girls.  It is in the middle of lush Indian countryside, sprawled across 100 acres.  When I enter the front gate, the Director always welcomes me "home."  I see familiar faces of little girls I met years ago and who remember my name.  I smile as I hear the singing and laughter as over 150 little girls play and get to act like little girls.  It does feel like "home" in so many ways for both my wife and me.
On this trip, I had time to spend with the Director and asked him if he would share some stories with me that I had not heard before in other visits…stories of some of the little girls who had been rescued and whose lives had been changed.  As we sat in his office, he reached into one of his file cabinets and handed me a yellowed piece of paper that had a picture of a baby girl at the top and the name printed in large letters, "Kousalya."  Her story read as follows:
There was hush-talk of suspicion over a bag left at the gate of the baby home at 5 A.M.  The weather was chill, cooled by the drizzle.  When we went nearby, our hearts almost froze by the sight of the girl baby wrapped in rags and kept inside a nylon handbag.  It was divine providence that the stray dogs did not damage the bag with the human babe inside.  A note inside the bag read, 'I am too weak and old to rear this child.' Surely it is a gift of God for us to care for the gift of life of this baby.
Having heard a number of stories over the years about the little girls who had been saved, I had never had the chance to read the story of Kousalya.  In fact, I probably could not pick her out of the crowd of girls that normally swarmed me every time I visited.  No, Kousalya was not a name or a face I knew.  I asked the Director, "Is she here?"  He replied that she was indeed and that she was a little shyer than the other girls, but if I would like to meet her, he would introduce me.
We left his office and strolled the grounds to find her.  Encountering a number of girls who were running and playing, we eventually approached a quiet group of four little girls sitting on the ground.  As they sat reading and doing homework, the Director said, "Kousalya, please come here."  She stood quickly, obeying.  He then said, "Kousalya, this is Brad uncle."
She was beautiful, about 11 years old…Full of life and light in her eyes.  I smiled at her and asked, "Kousalya, how long have you lived here?"
She responded, "As long as I can remember.  I came when I was a little baby.  I am studying very well.  I have many friends."
I smiled and thanked her. I then thought to myself, that Kousalya was given a chance that every girl—every person in India deserves.  She was rescued and has been cared for, unlike other girls in India, who are murdered as little babies.  She was thriving, unlike other little girls in India who are abandoned or neglected.  She was being educated and cared for, unlike other little girls in India who are seen as a commodity and are trafficked into brothels at such tender ages.
Yes.  She had a home, where they believed it was a "gift of God" to raise her.  A home.  And, seeing the tangible result of the rescue and care for Kousalya reminded me why my wife and I feel like it is "home" too.
While IGP's partner organization is not the ultimate answer to ending gendercide in India, this organization is acting to save lives of girls, just like Kousalya, one girl at a time.  And, if one girl at a time learns that her life is valuable, just because she is a human being, then the Indian culture can begin to be changed, one child at a time.
Mother Teresa once said, "If I look at the mass I will never act. If I look at the one, I will."  IGP supports Indian organizations that help save and transform the lives of little girls like Kousalya, one at a time.
The Invisible Girl Project is part of the It's a Girl action campaign. Please consider donating to them through the It's a Girl Causes campaign.
---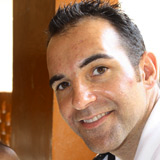 Brad McElya and his wife, Jill founded Invisible Girl Project (IGP) in 2009, while living in India.  Now a non-profit organization based in the U.S., IGP is a grassroots organization that supports Indian organizations that rescue vulnerable girls and care for them, transforming their lives, and teaching them their inherent value.  Brad and Jill regularly travel to India to visit IGP's partners and support their organizational and financial needs.
---
The views expressed by guest contributors to the "It's a Girl" blog represent the opinion of the individual author who contributes the content and should not be interpreted as being endorsed or approved by Shadowline Films. We feature these contributions to foster dialogue and exchange on gendercide and invite our readership to join the discussion.
0
0
itsagirl
https://itsagirlmovie.com/wp-content/uploads/2017/01/logo-sm-89.png
itsagirl
2012-12-14 03:15:28
2017-02-07 11:34:02
The Invisible Girl Project: Saving Lives in India