It's a Girl Documentary Inspires Music Video by Hip Hop Artist Omékongo Dibinga
January 15, 2013 – Activist and rap artist Omékongo Dibinga joins forces with the production team behind the documentary "It's a Girl" to release a new music video inspired by the film.
It's a Girl, produced by Shadowline Films, is an American documentary film that tells the story of gendercide in India and China. After seeing just the film trailer in early 2012 Omékongo Dibinga  was inspired to lend his voice to the cause. Dibinga – a rapper, trilingual poet, CNN contributor, motivational speaker, TV Talk Show Host and the Director of UPstander International – put pen to paper and wrote a hip-hop song.  "I wrote this song because hip-hop is a global force," says Omékongo, "yet too many hip-hop artists do not use their powerful skills and influence to speak on issues like these. I want to use my talent to make a positive change in this world."
Every year, millions of young girls are killed, neglected, or abandoned simply because they are girls. The United Nations estimates as many as 200 million girls are missing in the world today because of this gendercide.
After writing the lyrics, Dibinga shared them with the film's director, Evan Grae Davis. "When Omékongo approached us with the lyrics to this rap song he had written, I was deeply moved with how he expressed his heart for the victims of gendercide around the world. I'm sure having two daughters of his own makes it personal. His words reflect a deep passion against the injustice of gendercide in a way we wanted to share, so we asked him if he would record the song!" Davis said.
Omékongo recruited Lindsay Samakow, a talented debut vocal artist, to provide the backdrop as he recorded his song titled after the film, "It's a Girl."
"I was so inspired when I heard the song for the first time," says Davis, "that I wanted to produce the music video to bring it alive in a new dimension. We filmed Omékongo performing the song on the streets of New York City and in Central park with his two beautiful daughters and niece. We added in several clips from the documentary, and now have a music video that truly captures his heart for justice." Davis concluded, "The result is a haunting and compelling expression of one man's reaction to one of the greatest human rights issues of our time. If more people responded as Omékongo has, we could truly change the world!"
The music video is available on YouTube, and the song is available on iTunes. "It's a Girl" is currently on an international screening tour. To bring the film to your corner of the world, email screenings@itsagirlmovie.com.
Available Photos: (Click for high resolution versions)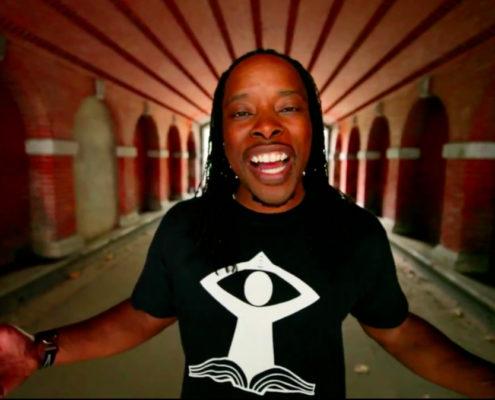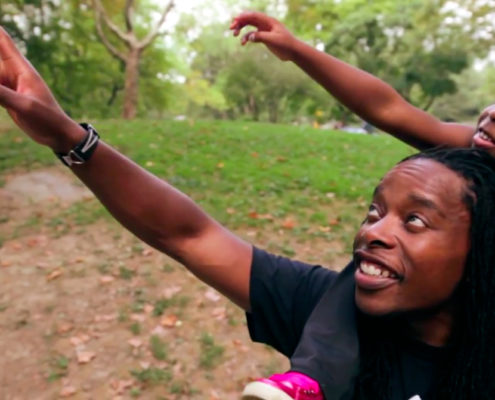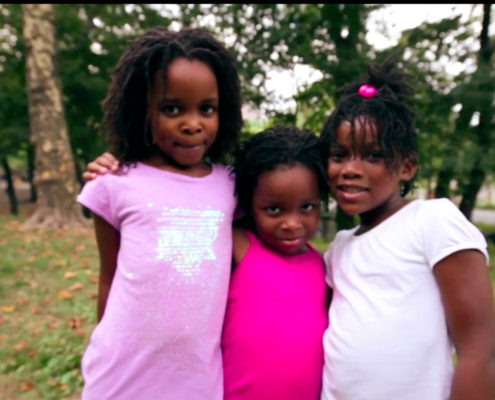 About It's a Girl
Shot on location in India and China, "It's a Girl" reveals the genercide in India and China and why so little is being done to save girls and women.  The documentary tells the stories of abandoned and trafficked girls, of women who suffer extreme dowry-related violence, of brave mothers fighting to save their daughters' lives, and of other mothers who would kill for a son. Global experts and grassroots activists put the stories in context and advocate different paths towards change, while collectively lamenting the lack of any truly effective action against this injustice. "It's a Girl" is in the midst of its international screening tour. Learn more at www.itsagirlmovie.com.
About Omékongo Dibinga
Omékongo Dibinga is the UPstander. His life's mission is to inspire all across the globe to take a stand when they witness an injustice, no matter how small or large. Omékongo is a motivational speaker, trilingual poet, CNN contributor, TV talk show host, and rapper. His Urban Music Award winning work has best been described by Nikki Giovanni as "outstanding, exciting, and new while being very old." His book, From the Limbs of My Poetree was described by Essence Magazine as "a remarkable and insightful collection of exquisite poetry that touches sacred places within your spirit." He was one of 5 international recipients out of 750,000 to win the first ever "CNN iReport Spirit Award."
https://itsagirlmovie.com/wp-content/uploads/2017/01/logo-sm-89.png
0
0
itsagirl
https://itsagirlmovie.com/wp-content/uploads/2017/01/logo-sm-89.png
itsagirl
2013-01-15 00:05:05
2017-01-27 00:12:50
It's a Girl Documentary Inspires Music Video by Hip Hop Artist Omékongo Dibinga