My Personal Thoughts as I Observe the International Day of the Girl
I was privileged to grow up in a home with a father and mother who have a strong, loving relationship. Throughout my life I have witnessed my parents' commitment to walking though life's ups and downs together with respect and honor. They have been married for over 50 years and still act like young lovers, even today. I have always known my father to treat my mother and sister with utmost respect and honor.
So when I met my wife, Jennifer, I felt intensely privileged that she would trust herself to me as her lifelong partner. I consider her a treasure of great value– one that I have never earned nor deserve, but has chosen to endure the challenges of life together with me nonetheless.
Then when I began traveling internationally and experiencing other cultures, I was shocked and confused by the way women were treated by their fathers, brothers and sons. Many cultures in Africa consider men with multiple wives as normal. It seemed that in almost every village I visited, the heat of the day found men sitting in the shade while the women worked the fields. The more I traveled, the worse the plight of women appeared. It seemed half the world did not allow women to vote or own property. And many nations, like India, who provide legal rights for women in their constitution fail to enforce those rights in the face of a prevailing patriarchal culture that believes women are inferior and subordinate to men.
Over the years, what I would have expected to be a trend towards increasing rights and protections for women throughout the world has seemed to go quite the opposite direction. Sexual exploitation and trafficking of women is at an all-time high. Systematic rape has become a new weapon of terror in times of war. There are 2 to 3 million cases of female genital mutilation every year.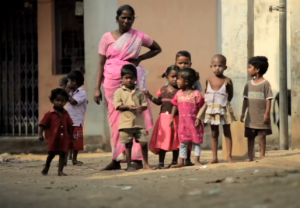 Girls are the most marginalized and discriminated group across the globe. 70% of the 1 billion people living in extreme poverty in the world are women. 60 million girls are forced into marriage before the age of 18. One in three girls in the developing world, as young as 7 to 10 years old, face being forced into marriage every day. These child brides are two times as likely to be beaten by their husbands, are often treated as property, and rarely see the opportunity to get an education.
The past couple of years spent producing It's a Girl and witnessing first-hand the scope of gender violence in the world has left me shaking my head. I wonder how societies moving towards greater economic prosperity and social complexity can be moving the opposite direction on women's issues. I think often about the underlying forces at work behind cultural mindsets or traditional practices that require the victimization of an innocent human being in order to preserve or protect the status quo. How does change come when such beliefs are so deeply engrained in the social fabric of a nation? How does one contribute in a positive, productive manner to the process of culture shift on such an overwhelming scale?
This first-ever International Day of the Girl, to be celebrated on October 11th, marks a movement to speak out against gender bias and advocate for girls' rights everywhere. As I think about how I will observe the International Day of the Girl, I know for me, it starts in my own home– loving and valuing my own wife and children; raising my daughter to know her incredible potential as a woman who can change the world; raising my son to honor and respect women and carry on the values I was taught; standing behind my wife as she becomes a world-changer in her own right.
Please join the It's a Girl action campaign on Causes.com. We've partnered with several leading organizations working on the ground in India and China to develop this campaign to make a difference in the fight against gendercide. With a few simple clicks, you can join the cause, sign petitions targeting global leaders, and even save girls and women. We need your help, and on this first International Day of the Girl, what better time to start to take action?
From the Aral Sea disaster in Eastern Europe to poverty in Africa to social transformation among tribal groups of South America, "It's a Girl" director Evan Grae Davis has traveled the globe with camera in hand for 16 years. Evan has dedicated his career to advocating for social justice through writing and directing short documentaries and educational videos championing the cause of the poor and exploited. Evan draws from his experience and passion as he lends leadership to Shadowline Films, a team of filmmakers who share a common concern for the critical issues of our time. It's a Girl is his first feature-length documentary. 
https://itsagirlmovie.com/wp-content/uploads/2017/01/logo-sm-89.png
0
0
itsagirl
https://itsagirlmovie.com/wp-content/uploads/2017/01/logo-sm-89.png
itsagirl
2012-10-10 13:27:37
2017-02-06 13:29:59
My Personal Thoughts as I Observe the International Day of the Girl