"It's a Girl" Wins Best Documentary at International Film Festival
Screening of It's a Girl at
I Will Tell International Film Festival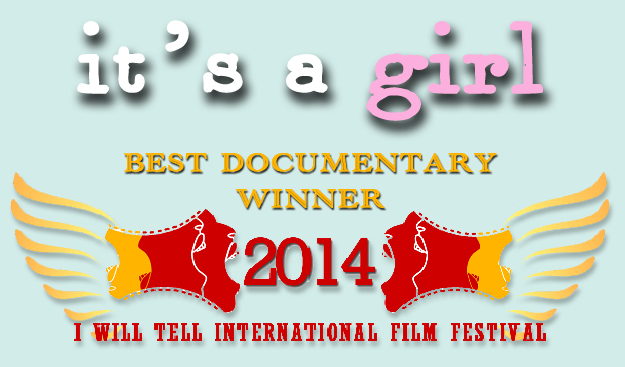 I Will Tell is a growing film festival which takes place in the heart of London every year from 30th August to 9th September since 2005. This year the festival celebrated its 8th year with the theme THE 'R' THING, on Relationships, with screenings of over 30 international films, inspirational post-screening discussions and festival activities all on the theme Relationship.
The festival's Closing Gala was a Tribute screening to Dr Maya Angelou (1928 – 2014) followed by an inaugural awards ceremony where they announce the Best Drama, Best Documentary, Best Short Film, Best Animation and the Audience Award for I Will Tell 2014.
Best Documentary was awarded to It's a Girl for "its in-depth exposé of a deeply harrowing subject, which a sensitive portrayal of its subjects together with an enlightened look at a complex issue created a powerful documentary that inspires and motivates." http://www.iwilltell.com/pr.html
We are so very honored and touched by this award and by the many people who were involved in the process.
Accepting the award via Skype was the film's amazing director, Evan Grae Davis.
"Congratulations to the amazing women who shared your stories, the experts and team who made this film a success! You deserve this!"
"We filmmakers really value the opportunities film festivals like yours provide for us to connect with audiences who are motivated to learn about important issues and to get involved."
0
0
itsagirl
https://itsagirlmovie.com/wp-content/uploads/2017/01/logo-sm-89.png
itsagirl
2014-09-23 03:11:18
2017-02-09 13:31:22
"It's a Girl" Wins Best Documentary at International Film Festival