In her footsteps: The Day of the Girl
This story was originally published on Medium.com/@UN_Women
She was forced to flee her home, taken out of school. She's hungry. She's hurt.
Despite it all, she raises her voice. She's smart and strong. She's learning create and to lead.
she learns to write code, she runs for office…
She persists. She succeeds.
The 1.1 billion girls of today's world are challenging the status quo. They're redefining girlhood, and they're doing so against the odds.
young girl in the Bangladeshi refugee camp, Cox's Bazar. Photo: UNWomen/Allison Joyce
Across the world, girls face adversities that hinder their education, training and entry into the workforce. Take internet and communications technology for instance, where the digital gap is growing as we speak; the difference in internet use between men and women grew from 11 per cent in 2013 to 12 per cent in 2016, and the gap is even wider in some lower-income countries.
Right now, a quarter of young people, most of them girls, are neither employed nor in education or training. As they enter the workforce, these girls and young women will be more likely to engage in informal employment, which puts them at higher risk for workplace abuse, exploitation and unfair wages.
This year alone, 12 million girls under 18 will be married, and 21 million girls aged 15 to 19 years will become pregnant in developing regions.
On International Day of the Girl (11 October), themed "With Her: A Skilled Girl Force", meet some amazing (s)heroes who are rising against all odds, inspiring others and innovating for a better future.
Taffan Ako. Photo: UN Women/Maria Sanchez
When Taffan Ako was just three years old, she fled the civil war in Iraqi Kurdistan with her mother and sister. They hid in trucks, in small boats, carrying everything they owned.
Ako and her family found refuge in Sweden, where she spent her childhood, and she returned to Kurdistan as a young adult. Seeing her community with fresh eyes, Ako began to speak out about the oppression of women.
Despite receiving many threats for her feminist articles and activism, Ako launched the first youth empowerment association and founded EmpowHERment, an organization that assists women and young girls who have been former ISIS sex slaves or victims of human trafficking.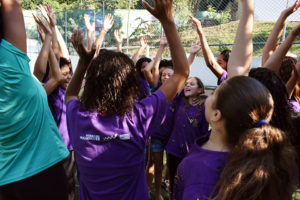 Participants in the One Win Leads to Another programme in Brazil. Photo: Empodera
"I try to demonstrate to girls that we can do whatever we want, and to boys that we are not weaker or less than them in anything," says Raphaela Lacerda,a young woman who participated in an empowerment programme for girls in Rio de Janeiro, Brazil.
Lacerda, as well as nineteen-year-old Dayane Santos, stood out for their courage to speak honestly about their life experiences and leadership within their programme groups.
A year after participating in the "One Win Leads to Another" programme, Santos has completed school, secured a full-time job and still finds time to co-facilitate sessions as a role model for younger girls. And Lacerda was recently hired by an international cosmetic company, on top of coordinating meetings for teenagers where she talks about girls' empowerment.
Read more about girls and young moms in Brazil building their confidence and skills»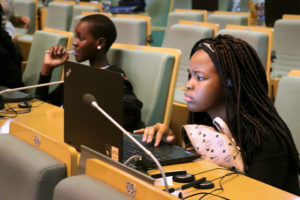 Eno Ekanem poses in front of a African Girls Can Code Initiative sign. Photo: UN Women/Faith Bwibo
Khayrath Mohamed Kombo, 15, and Eno Ekanem, 15, are coding for a better world.
At the first Coding Camp in Addis Ababa, Ethiopia, attended by over 80 girls from over 34 African countries, Kombo assisted in the development of an animated video on gender equality, and Ekanem is working on a drone to deliver medications to rural areas that currently lack access.
"Girls face discrimination in the sector, because computer science has always been seen as a course for boys, not girls," says Ekanem, from Abuja, Nigeria, adding sarcastically: "Shouldn't you learn to be a housewife or do girly stuff?"