#IStandWithDrMituKhurana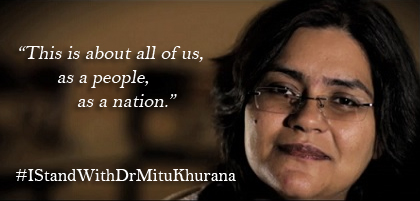 Dear Friends and Supporters,
I am a doctor/pediatrician and I have faced immense pressure from my matrimonial family to abort my twin female children. My experience in fighting for justice for my daughters show the extreme patriarchal attitude of all authorities supposed to help women like me, who want to go against their families and save their daughters.I am the first mother in India to file a complaint under the P.C-P.N.D.T Act because my husband and in laws did not want me to give birth to my twin daughters. My case* set a precedent for other women to come forward and complain when being forced to abort their own daughters. The P.C-P.N.D.T Act which was passed in 1994 was highlighted when I filed my complaints.
Despite it being found out that no Form F was filled when USG was done on me, and other incriminating evidences today after 10 years of my struggle, the trial court has discharged all the accused and dismissed the case. The orders of the court does not even mention the arguments raised by my counsel. The lower court has dismissed my P.N.D.T complaint despite all evidence.
I will however fight back, but need the support of all of you. The orders discharging the accused is a closed door for any other women who want to come forward to speak out against their accused, in their lawful obligation to protect their daughters.
If I appeal alone in the higher court, the orders will be same. This time I want all of you with me, with you extending your support in media, in social media, in talking with others, and watching over the orders as they come in. I cannot do this alone. Please share, blog, and tweet with the hashtag #IStandWithDrMituKhurana.
I want people to realize I do not get any monetary benefit from this case. I just want my daughters, our daughters, to have and to inherit a safer, better world. As sex ratios decline, our society is becoming more violent — crime in general, and crime against women in particular, is increasing.
This is not about me. This is about all women who want to save their daughters. This is about all of us, as a people, as a nation.
In Solidarity!
Dr. Mitu Khurana
---
*My case has been highlighted in various national and International media, some of them being-
1) First episode of SATYAMEV JAYATE
2) WITNESS program on ALJAZEERA channel (http://www.aljazeera.com/programmes/witness/2013/09/20139912536503360.html)
3) 2009 Human Rights Reports: India by US government (http://www.state.gov/j/drl/rls/hrrpt/2009/sca/136087.htm)
4) 2010 Country Reports on Human Rights Practices – India (http://www.state.gov/j/drl/rls/hrrpt/2010/sca/154480.htm)
---
The views expressed by guest contributors to the "It's a Girl" blog represent the opinion of the individual author who contributes the content and should not be interpreted as being endorsed or approved by Shadowline Films. We feature these contributions to foster dialogue and exchange on gendercide and invite our readership to join the discussion.
0
0
itsagirl
https://itsagirlmovie.com/wp-content/uploads/2017/01/logo-sm-89.png
itsagirl
2015-10-03 03:15:36
2017-01-27 01:41:14
A Letter from Mitu