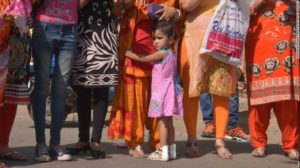 March 27, 2017 New Delhi (CNN)
A pregnant woman sat in a hospital consultation room in the western Indian state of Maharashtra. She wanted to know the sex of her baby, she told the doctor.
In many countries, this would be a routine process, all part of becoming a new parent. But in India — where thousands of female fetuses are aborted every year — revealing the sex of an unborn child has been illegal since 1994.
Nevertheless, the doctor offered to tell the woman the sex of her baby for a one-off payment of 12,500 rupees ($190). She agreed and paid for the service, documenting everything on a hidden spy camera.
Last week, a court in Malegaon convicted the doctor and his brother of running a sex-selection clinic and abortion racket. They face three years in jail and a fine, according to police.

The sting, which caught them was set up by Maharashtra-based activist Varsha Deshpande, founder of Lek Ladki Abhiyan, an organization dedicated to fighting sex-selective abortions. The woman was a pregnant volunteer recruited by Deshpande.

Since 2004, Deshpande said, they have carried out dozens of investigations, which have resulted in 20 convictions.
__________________________________
Getting worse
US-based NGO Invisible Girl Project estimates that five million to seven million sex-selective abortions are carried out in India every year.

In 2001, India's census recorded a child sex ratio of around 93 girls to every 100 boys. By 2016, according to the World Economic Forum, the ratio was closer to 89.

"This gender gap has resulted in villages where men have no women to marry, because the women are non-existent," said Invisible Girl Project CEO Jill McElya.

"So children are trafficked into villages to become brides, or young women are trafficked into brothels." Deshpande said the problem has been getting worse in Maharashtra "for the last three years," pointing to a failure to enforce the law.

While most activists rely on awareness raising and pressuring the government, Deshpande has always favored direct action. In the early days, before she received any donations or outside help, she used cheap Walkmans to record audio for evidence.

Concerned tipsters can now call a hotline to share information about a doctor offering sex-selection tests. Members of Deshpande's team then go along with a pregnant volunteer to collect evidence on how the doctor or nurse is breaking the law.

Unless the government steps up enforcement of the law, Deshpande said she believes this is the only way to stop the abortions.

"There's a deterrent effect," she said.
The Ministry of Health and Family Welfare did not respond to a request for comment.

India first banned sex-selection in 1994. However, activists said that the law left many loopholes, and Deshpande worked with many others to bring about further reform in 2002, which made the legislation more stringent.

Almost 15 years later however, Deshpande, who sits on a national committee created by that legislation, said the "political will" to actually enforce the regulations does not exist.

The law requires practitioners using ultrasound technology to register with the government. It also prohibits companies from selling ultrasound machines to those not registered and requires local officials to educate the public against sex-selection.

"Until the judicial system works like it should and the courts uphold the law, there will be no true systemic change," McElya said.

Deshpande agrees. "If we start implementing it, then we can stop it within one year," she said.
____________________________________
'My grandfather didn't kill his daughters'
Preference for sons over daughters in India, as with other Asian countries, comes from a cultural belief that daughters are economic burdens and sons are not. Cultural practices such as requiring a bride provide a dowry reinforce this.

"They would see a daughter as a liability. A daughter means you have to spend. Sons are called blank checks," said Vibhuti Patel, a professor at Mumbai's Shreemati Nathibai Damodar Thackersey Women's University.

"(In-laws) know they're going to get easy money from dowry."

Patel grew up in a Gujarati family where she heard stories of uncles choosing to kill unborn females.

"My grandfather was the only person who did not kill his daughters," she said. And by that logic, "he was supposed to be poor."

The practice is not limited to poor families however. Patel said that sex-selective abortions carried out at a clinic are expensive, and are primarily found among the upper classes, who want to keep their property and assets within the family.

For now, the fight continues, Patel said: "If there's a demand, they will provide a supply."

We are thankful for your support in helping us fight to end gendercide in India. 
Gratefully,
https://itsagirlmovie.com/wp-content/uploads/2017/01/logo-sm-89.png
0
0
Shadowline Films
https://itsagirlmovie.com/wp-content/uploads/2017/01/logo-sm-89.png
Shadowline Films
2017-06-30 12:44:44
2017-06-30 12:44:44
Activists go undercover to expose India's illegal sex-selective abortions